VELOCEAN, Liveaboard Redefined.
The finest diving adventure with world-class liveaboard experiences
OUR SUITES
Combining casual luxury with comfort
Wake up every morning relaxed… and ready to explore Indonesian underwater paradise from one of our 10 expertly functional suites designed by divers for divers.
Feel at ease in your private oasis at sea in three types of our suites. PLATINUM oceanfront suite , ELITE ocean suite and SIGNATURE single suite
SUITE AMENITIES AND FEATURES
Spacious en-suite bathroom with comfort bath amenities
Premium quality linen bedding set
Large picture window overlooking the ocean
Individual climate control
Complimentary WiFi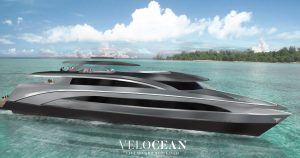 Room Type
PLATINUM OCEANFRONT SUITES
---
The Platinum oceanfront suites are located at the front of vessel, offering the ultimate in privacy and luxury.
Magnificent panoramic ocean views through expansive and skyline windows uniquely at VELOCEAN.
ELITE DOUBLE SUITES
---
A truly pleasant selection of diving voyage for you and your dive buddy. With sophisticated décor,
Elite ocean suites are featured with comfortable and offered enchanting sea view from the upper deck.
SIGNATURE SINGLE SUITES
---
Ideal for solo diver, the Signature single suites are situated at main deck. This luxury escape is featured with private camera station working space.
Enjoy gazing out over the beautiful ocean from your comfort single bed.
GUEST ACCOMMODATIONS:  18 GUESTS
2 PLATINUM OCEANFRONT SUITES
6 ELITE OCEAN SUITES
2 SIGNATURE OCEAN SUITES
OUR 360◦
DECK FIRST-CLASS OUTDOOR LIVING ON THE SUNDECK
---
Lounging on the large banquettes surrounding the JACUZZI, just the perfect place to relax and refresh during the dives.
Enjoy fresh air with a 360◦ view of priceless Indonesian ocean scenery, watch the sky transform at sunset and million stars shining at night will surely make your diving holidays unforgettable one.