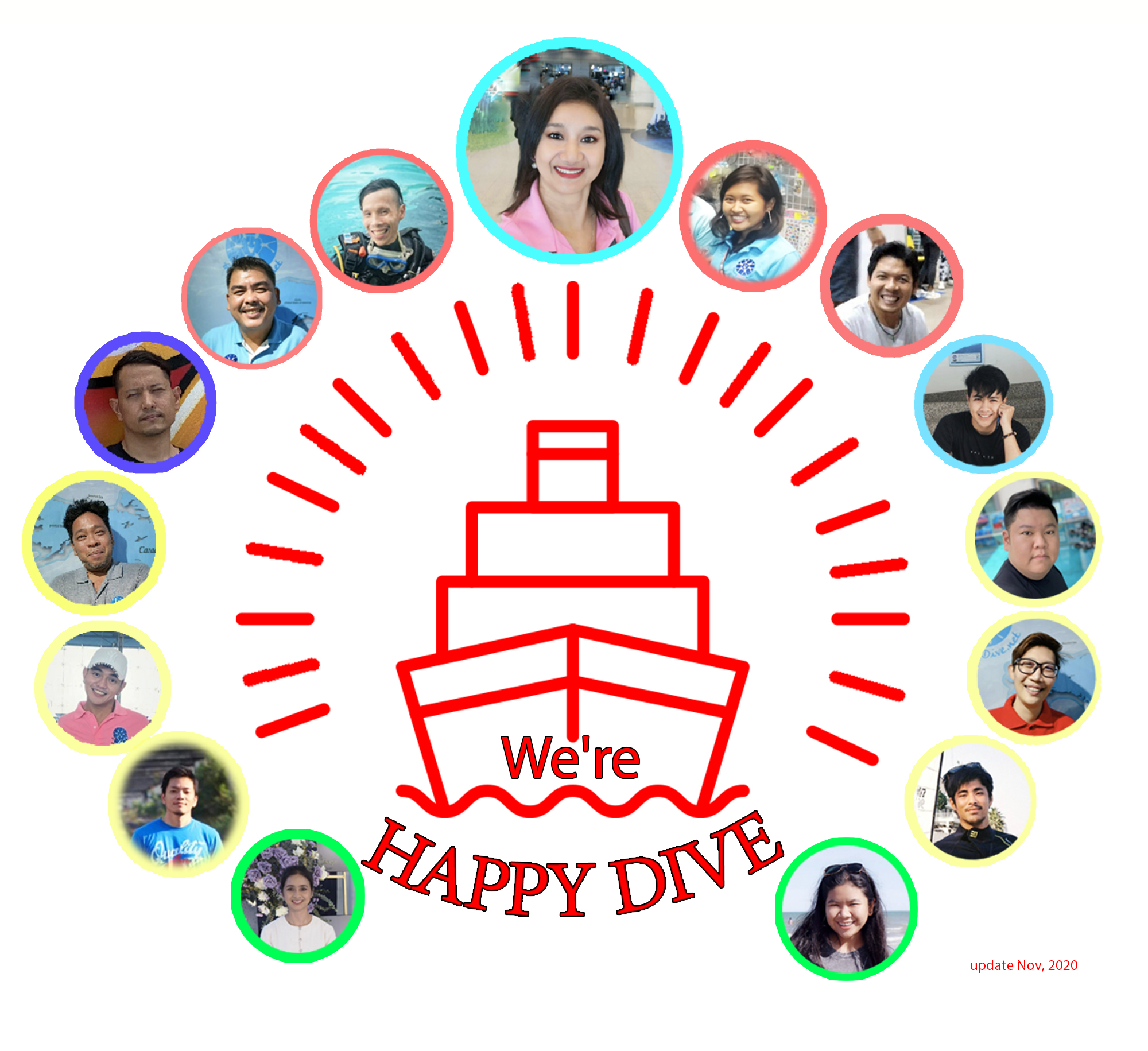 ร้านดำน้ำ Happy Dive เกิดจากการรวมตัวกันของ เพื่อนๆ ที่มีใจรักในการดำน้ำ ชอบทะเล ชอบสิ่งมีชีวิตใต้ทะเล ชอบการพาตัวเองและเพื่อนๆ ลงไปดำดิ่งล่องลอยทำตัวไร้น้ำหนัก ได้สัมผัสฝูงปลา สัตว์ที่อยู่ใต้ทะเลใกล้ๆ และที่ชอบที่สุด คือ ชอบเวลาที่พวกเราได้อยู่รวมกัน ได้พูดคุยกัน ได้สนุกกัน มีเรื่องเล่าสู่กันฟัง แชร์ทุกข์สุขกัน เป็นช่วงเวลาที่เราเรียกกันว่า Happy Dive ก้อว่าได้
Happy Dive เปิดสอนทุกเรื่องดำน้ำ สน๊อค Snorkeling และว่ายน้ำ เราตั้งใจที่จะถ่ายทอดทุกเรื่องที่ทุกคนสนใจให้เต็มที่ และเต็มเปี่ยมไปด้วยคุณภาพที่สุดเท่าที่เราจะสามารถทำได้ นอกจากนี้ยังพร้อมจะเพิ่มเติมความรู้ให้ตลอดเวลา ตราบเท่าที่ผู้สนใจเรียนรู้สนใจ และเท่าที่ผู้ถ่ายทอดมีกำลังและความรู้ที่ได้เรียนรู้มา
Happy Dive ยังจัดจำหน่ายอุปกรณ์ดำน้ำทุกชนิด รวมไปถึงอุปกรณ์ถ่ายภาพใต้น้ำ รับซ่อมและเซอร์วิสชุดเร็คกลูเรเตอร์ บีซีดี ไดร์คอม และอื่นๆ นอกจากนี้ Happy Dive ยังมีทริปดำน้ำ ทั้งในประเทศและนอกประเทศไว้ให้ไปสนุกร่วมกันอีกด้วย Happy Dive หวังว่าร้านดำน้ำเล็กๆ ของเราจะได้มีโอกาสต้อนรับเพื่อนๆ พี่ๆ น้องๆ ทุกท่านนะคะ แล้วไปหายใจให้ไนโตรเจนเข้ากระแสเลือดด้วยกันค่ะ
บุญรักษา
หญิงต้อม
Happy Dive Shop was founded by a group of friends who are fond of scuba diving, seeing the beauty of the ocean, and being part of the marine world. We love to let ourselves float weightlessly in the deep ocean among wonderful marine lives. What we love the most is the quality time we spend together. The time when we have fun, and share our stories together is the time that we call "Happy Dive".
Happy Dive offers you diving lessons in every aspect including snorkeling and swimming. We will do our best to pass on our knowledge of what you are interested in and we will leave no stone unturned. Moreover, we are always ready to share our knowledge as best as we can as long as the learners are eager to learn.
Happy Dive also provides every sort of diving gear including underwater photography equipment. If you are looking for someone who can give you services and fix your regulators, BCDs, Dive computers and so on, we are always your Handyman.
Last but not least, Happy Dive has both domestic and international scuba-diving trips for you. Once you join with Happy Dive, the fun is unforgettable. Come visit us at our shop. We do hope to see you soon. Let's breathe the Nitrogen into our bloods together.
Bless you,
YingTomm
About us HappyDive Team

                     
ครูต้อม  Instructor Trainer with SSi #99100              

Assistant Instructor Trainer (AIT)
Snorkel Instructor (SNOI)
Specialty Instructor Deep Diving (SPI-DD)
Specialty Instructor Dive Guide (SPI-DG)
Specialty Instructor Enriched Air Nitrox (SPI-EAN)
Specialty Instructor Navigation (SPI-NV)
Specialty Instructor Perfect Buoyancy (SPI-PB)
Specialty Instructor Photo & Video (SPI-PV)
Specialty Instructor Search & Recovery (SPI-REC)
Specialty Instructor Stress&Rescue (SPI-SR)
Specialty Instructor Wreck Diving (SPI-WR)
Specialty Instructor Coral Identification (SPI-COI)
Specialty Instructor Fish Identification (SPI-FID)
Specialty Instructor Marine Ecology (SPI-NAT)
React Right Instructor (FA, CPR, AED, O2) (SPI-RR-FACPRAEDO2)
Scuba Ranger Instructor (SRGI)
React Right – Course Combination (FA, CPR, AED, O2) (SC-RR-FACPRAEDO2)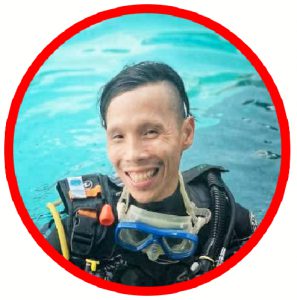 ครูเบิร์ธ  Instructor Trainer with SSi #99100              

Assistant Instructor Trainer (AIT)
Snorkel Instructor (SNOI)
Specialty Instructor Recreational Sidemount Diving (SPI-SIDE)
Specialty Instructor Wreck Diving (SPI-WR)
ครูต้อง – Divemaster Instructor (DMI)
Specialty Instructor Equipment Techniques (SPI-ET)
ครูมะเหมี่ยว – Divemaster Instructor (DMI)
– Basic Freediving Instructor (SPI-FRDB)
ครูฮง
ครูน๊อต
ครูจอม
ครูมัด
ครูแซน
ครูน่าน
ครูป๊อป
Certify Assistant
เจนนี่
แฟร์
แบ้งกี้